Stays that include the following days require a night minimum: Fri, Sat
Sorry, but the dates you selected require a night minimum stay. Please adjust your search and try again.
Meridian Plaza Policies
By Beach Vacations
In order to make your Meridian Plaza beach escape as seamless and stress-free as possible, we have outlined the policies and procedures expected of all guests during your stay in our family friendly hotel.
---
Methods of Payment:
Personal checks (that have fifteen (15) days to clear your bank), money orders, MasterCard, Visa, American Express, and Discover Card.
---
Deposit and Payment Due Date:
In response to changing marketplace conditions, we are committed to ensuring our guests experience flexibility during these challenging times. We have temporarily modified our Reservation Policy (in blue font below).
At time of booking, NO deposit will be required if your arrival date is outside of 14 days. At 14 days prior to your arrival date, your credit card will automatically be charged the advance deposit equal to the first night's stay of your reservation. Your reservation's remaining balance is due at time of check-in.
If your arrival date is within 14 days, an advance deposit equal to the first night's stay will be taken upon booking for all vacation guests. Your reservation's remaining balance is due at time of check-in.
A valid photo I.D., as well as the credit card used to pay your deposit, will be required at check-in.
---
Security Deposits:
Upon arrival we require a credit card preauthorization as a security deposit for all reservations. Stays of less than seven nights require a $100.00 deposit and stays of seven nights or more require a $250.00 deposit.

After a departure inspection confirms no damage to your rental property this security deposit will be released within 5-7 days of departure. Cash deposits are accepted but are refunded via check that can take up to 4-6 weeks from departure. Monthly stays require a $250 security deposit.
---
Cancellation of Reservation:
We are committed to ensuring our guests experience flexibility during these challenging times. We have temporarily implemented the following cancellation policies (in blue font below)
For guests with existing reservations for any future arrival date, we will allow full changes or cancellation without a charge up to 24 hours prior to arrival,* as long as the change or cancellation is made by May 31, 2020. Please note that any changes to existing reservations will be subject to availability and any rate differences.
For guests making new reservations for any future arrival date between today and May 31, 2020, we will allow the reservation to be changed or cancelled at no charge up to 24 hours before your scheduled arrival date. Please note that changes to the reservation will be subject to availability and any rate differences.
No Early Cancellation Fee. Advance deposit is 100% refundable prior to 14 days of arrival.
Advance deposit is non-refundable within 14 days of arrival date.
For guest convenience, within 14 days of arrival, guests can retain their advance deposit toward different stay dates within 1 year of original reservation.
Guests who do not arrive on their scheduled arrival date and do not inform the property of their wish to change their stay dates will forfeit the advance deposit.
Monthly rental deposits are non-refundable.
---
House Parties:
Should a house party (chaperoned or un-chaperoned) occur, occupancy will be immediately terminated. Should a parent check into a rental and later leave students or minors, the students/minors will be evicted if BV finds it necessary to do so. No refund, including unused rental amounts, will be refunded.
---
The suite includes:
All furnishings required for normal living conditions. Rates include departure maid service & setup of linens. Linens are provided based on the number of paid occupants. Pillows, bedspreads, and blankets are provided; however, these are for use as bedding on the beds only! You must bring your own blankets and towels for use on the beach, on the balcony, by the pool, etc. Suites are set up for light housekeeping, including cooking and eating utensils.
---
Locked Closets:
Many homeowners have their personal property locked in a closet for their convenience. These areas are absolutely not included in this rental.
---
Upon Arrival:
Immediately notify Guest Services (843-913-4437) of any missing or inoperative furnishings or equipment or any weak or unsafe conditions which may result in injury. Occupancy by you and/or your party shall be conclusive evidence that the suite is in satisfactory condition. During your stay, please promptly report any problems to Guest Services so that our maintenance department might attend to them efficiently for your safety and comfort, and for that of future guests.
---
Repairs:
We cannot guarantee air conditioning or appliances. There will be no refund upon their failure. We try to keep these suites in good working order. Our best will be done to have any malfunction repaired as quickly as possible.
---
Substitution:
In the event that an owner of a vacation rental suite elects to remove his/her property from our rental management responsibility, we will provide comparable accommodations or grant a full refund. We reserve the right to substitute suitable accommodations if circumstances require.
---
Agent / Maintenance:
Personnel are permitted to enter premises during normal working hours (8:00am-6:00pm) for the purpose of conducting necessary repairs and/or maintenance.
---
Do Not Disturb:
Your Health and Safety is of utmost importance, therefore, if the "Do Not Disturb" sign remains on your door for an extended period-of-time and we are unable to contact you, we may knock on your door and if no answer, enter your room to determine your well-being. Please understand it is not our intention to disturb guests during their vacation, however, we reserve the right to enter rooms to check on the safety and security of our guests and property as well as to perform maintenance and repairs.
---
Please Read:
Beach Vacations, LLC, as agent, or the owner of the individual suite rented, shall not be liable for any damages or injury to the tenant or to any other person, or damages to any property occurring on the premises or any part thereof, or in common areas thereof, and tenant agrees to hold the agent and owners harmless for any claims of damages, no matter how caused. The agent will not be held responsible for acts of theft, vandalism, or other damage to the guest's personal property or vehicle.

By accepting this rental agreement as the guest, you agree to be responsible for any damage to the dwelling or grounds and to the furnishings which occur during your stay though act or negligence of you, your family, friends, or social guests, and adhere to all rules and regulations governing the property you occupy. You agree to surrender the property at the time and date specified in as good condition as it was at the beginning of your stay, except for reasonable wear and tear, act of God, and/or causes over which you have no control. If the suite is not left in satisfactory condition, you will be charged for repair and restoration to satisfactory condition, plus lost rents.

The guest certifies that he/she is at least 21 years of age & has read carefully the limitations on this villa by the owner and the agent as set forth in this agreement, including limitations on the number of persons permitted to occupy this villa and fully agrees to abide by such limitations.

All deposits and rents will be deposited in an interest-bearing escrow account with the interest accrued to the credit of Beach Vacations LLC.

No smoking or pets are permitted in the accommodations: if violated guest will be subject to immediate eviction and a $250.00 fine.

The guest certifies that he/she is at least 21 years of age. Photo Id required at Check-in.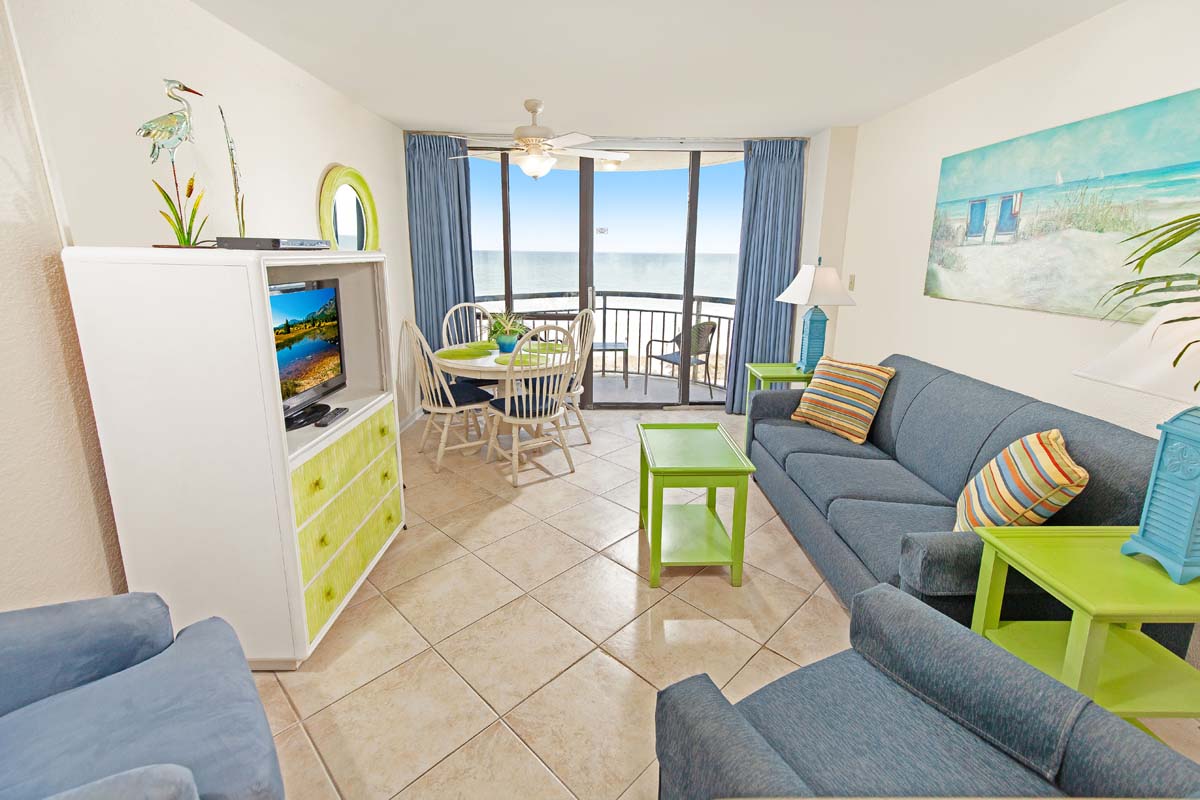 Oceanfront Double Suite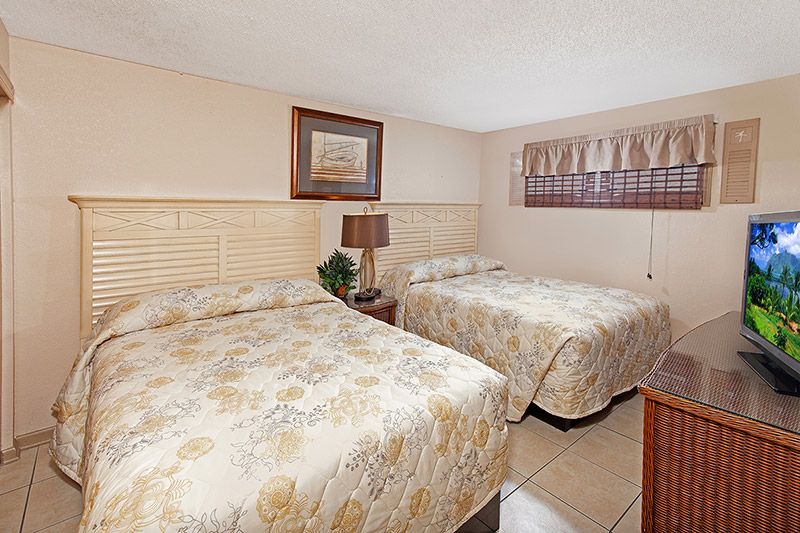 Ocean View Double Suite